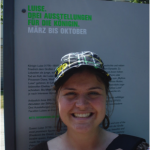 Dr Lulu van Rooyen (née Pretorius) holds a B.Sc. in Environmental Science and a B.Sc. (Hons) in Plant Science, both from the University of Pretoria, and an M.Sc and PhD in Environmental Management from the University of South Africa. Lulu has worked as an environmental and ecological consultant, for environmental companies as well as in a freelance capacity.
Since 2012 Lulu has been part of an NGO called the Centre for Wetland Research and Training. Through this she partakes in research projects, student training, capacity building activities, and acts in an advisory capacity for stakeholders from all spheres, on a part time basis. Between 2012 and 2015 she acted as a research coordinator for the University of the Free State on a German-South African collaborative research project (Alliance for Wetland Research and Restoration) on peatlands in South Africa.
In November 2016 she was employed at the University of KwaZulu-Natal to act as an embedded researcher in the eThekwini Municipality, as part of the Durban Research Action Partnership (D'RAP). In this role she is to develop and implement a long-term biodiversity monitoring program.