Briefs provide an overview of the longer, more comprehensive deliverables such as journal articles or working papers.
Towards an inclusive, reflexive learning approach for dealing with climate risks in cities | July 2020
FRACTAL's learning approach has always encouraged collaboration, with the aim to co-create entry points for climate change information in decision and planning processes. This brief highlights the relationships, trust and comradeship that have been developed through the project's various learning processes and that are central to supporting a sharing of perspectives, knowledge and evidence amongst a broad group of stakeholders.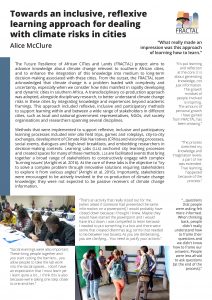 Urban Caucus Governance Briefs | September 2019
Four governance briefs were developed at the FRACTAL led Urban Caucus in June that focus on the decision-making processes around specific city-level projects: water banking in Windhoek, Namibia; the ongoing management of the Ujams Wastewater Treatment Plant (UTWP) in Windhoek; the development of the Morton Jaffray Waterworks in Harare, Zimbabwe; and the contribution of policy briefs to making Lusaka, Zambia climate change and water resilient. Each brief considers the enablers to progress, highlights challenges of the project and shares lessons learned.
Transdisciplinary Knowledge Integration Series | 2019
FRACTAL's learning processes involve a wide range of stakeholders. In order to ensure a level playing field of knowledge around climate-related terminology the team found several activities helpful at the outset of a multi stakeholder engagement. FRACTAL researchers at SEI have developed their experiences into a series of explainers and how to guides to help others who are involved with climate-related learning engagements.
Climate Risk Narratives | 2019
Climate risk narratives were initially developed as a way to clearly communicate climate information. They contained stories about the future climate of a city based on evidence from regional climate projections and observations. FRACTAL's iterative co-production processes then encouraged their further use as a tool to identify relevant climate knowledge that is specific to a given city's climate risks, potential impacts and suggested societal responses.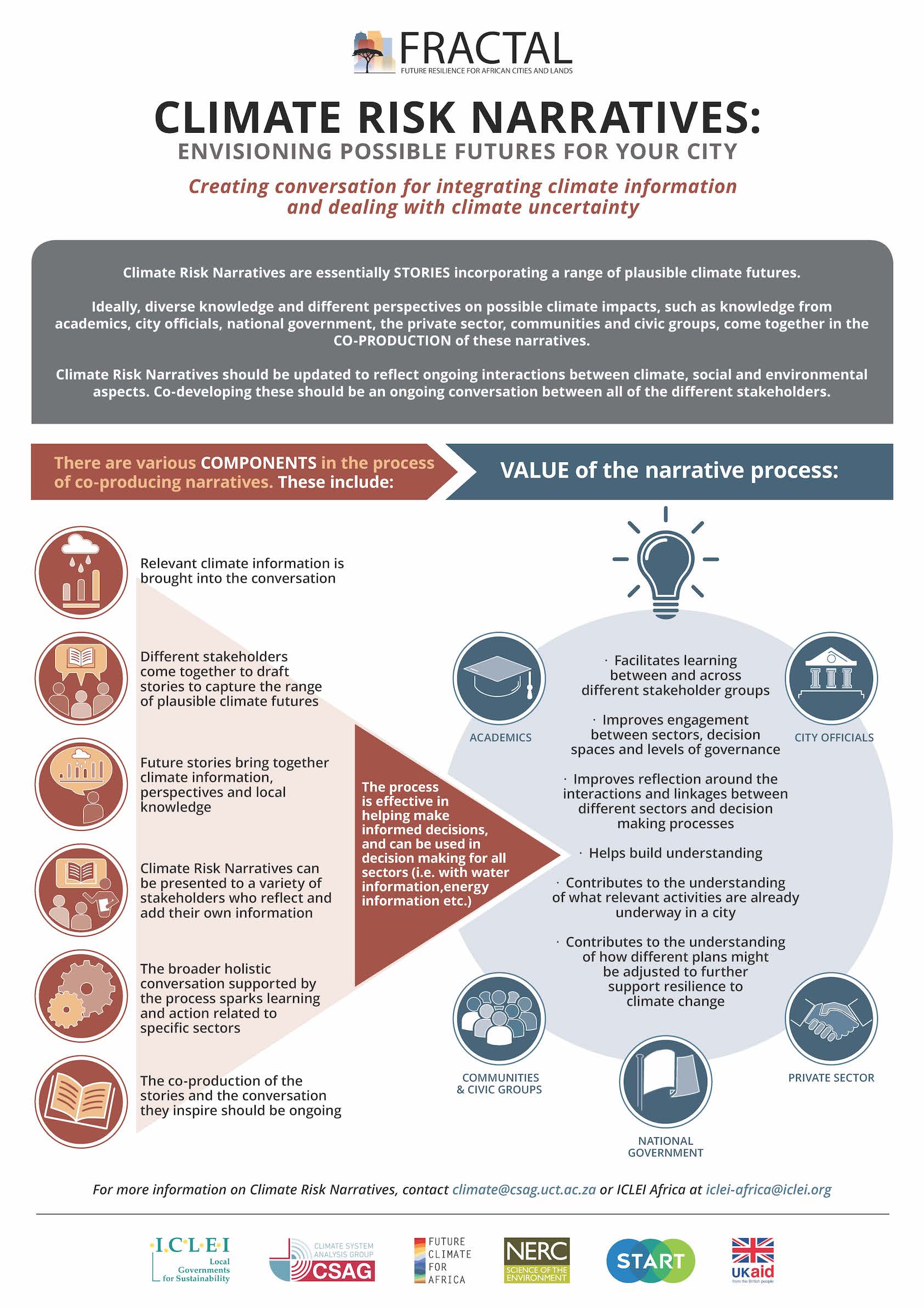 Climate information distillation is at the heart of FRACTAL aims and objectives to "co-produce relevant knowledge that will support resilient development pathways and enable decision-makers to better integrate pertinent climate knowledge into their resource management decisions and urban development planning". This briefing note provides information on the concepts, processes and experiences that have contributed to the development of the climate information distillation framework.
FRACTAL's embedded researcher approach has provided valuable connections between local universities, city government and FRACTAL's own research team. They operate within a negotiated space between these three organisations to build trust and receptivity, facilitating co-exploration and co-production of knowledge. This briefing paper gives an overview of their central role in the FRACTAL project and the reasons why this approach was taken.
Governance Briefs: Lusaka, Windhoek and Maputo | 2018
Governance research was carried out in Lusaka, Windhoek and Maputo. The governance configuration concept was used to frame this research. These briefs describe both the process and the analysis of the data gained through this research. Governance Brief 1 documents the process and Governance Brief 2 expands on this, organising the interview data and presenting it using visualisations and coding.
Discourse analysis is an analytical approach applied by social scientists as part of the FRACTAL urban governance research, and includes both analysis of verbal engagements and analysis of policies and related documents. In practical terms, this implies unpacking how language is used, when people speak as well as in documents, in order to better understand how problems and solutions are framed. Such insights build an understanding of current planning and implementation patterns, with the aim of enhancing the integration of climate information into decision-making. This briefing note is an introduction to the definition and method of discourse analysis, with particular focus on argumentative discourse analysis, and outlines its application as a method to better understand urban governance within the FRACTAL focal cities.
This concept note helps outline the theory and methods used by FRACTAL researchers to understand urban governance arrangements in the southern African cities where FRACTAL operates. It is part of a suite of concept notes.
The reality of urban governance is complex and constantly changing. This concept note aims to provide a conceptual framework that helps with our understanding of this complexity by outlining the theory of governance used across the FRACTAL project.
This study analyses the discourses in Namibia's Water Supply and Sanitation Policy (WSASP) of 2008. It also aims to inform future project implementation, particularly in Windhoek.
A summary of the three concepts of transdisciplinarity, co-production and co-exploration and how they are being operationalised in FRACTAL.