---
RESOURCES & ENGAGEMENTS
Virtual Lusaka Water-Energy-Climate Nexus Dialogue | October 2020
Stakeholders from across Lusaka gathered online on 14th October 2020 to discuss the Water-Energy-Climate nexus in the city. Participants included Zambia Breweries, which is the first time that the private sector has attended a FRACTAL event. The Water-Energy-Climate nexus was explored in detail and action items were recorded for the future.
Exploring perspectives that underpin decisions for southern African urban development | April 2019
The FRACTAL team found very complex decision spaces in the rapidly growing southern African cities where the project was working. As a result, an innovation fund project was designed to unpack and consider real case studies of decisions that have been made in three FRACTAL cities: Lusaka, Harare and Blantyre. The case studies enabled researchers to explore the similar themes that emerged. There was a strong economic development value at the core of all three decisions, coupled with environmental and social well being values. You can download the full Innovation Fund Report and read the independent reports for the case studies in Lusaka, Harare and Blantyre.
Lusaka City Council Management Capacity Building Workshop | January 2019
FRACTAL collaborates with LuWSI (Lusaka Water and Security Initiative), who are involved in helping to develop a water security action and investment plan (WSAIP) for Lusaka. Both FRACTAL and LuWSI projects focus on co-exploring ways of ensuring water security in the Lusaka city region.
In January, as part of the Lusaka City Council (LCC) led community engagement and empowerment process for WSAIP, Christopher Jack (CSAG, UCT) facilitated at a workshop that was held for civic leaders from the 33 wards in Lusaka. City councillors and management were given training on an integrated planning approach to water security and the use of climate information for decision-making in Lusaka. The workshop was funded by a Small Opportunity Grant administered by FRACTAL partner START, UNZA, GIZ and LCC.
Lusaka Policy Briefs | December 2018
Policy briefs were co-developed by FRACTAL and LuWSI (Lusaka Water Security Initiative) with contributions from a range of Lusaka city stakeholders. The policy briefs were presented to a high-level panel including ministerial representatives in Lusaka at the final Learning Lab in November 2018. They included briefs on Water Supply, Groundwater Pollution, Groundwater Levels and Flooding.
Lusaka Think Tank | December 2018
A FRACTAL innovation grant enabled a think tank to be held in Lusaka in December, where the values and perceptions of decision makers in key water infrastructure projects were unpacked – with an emphasis on the Kafue bulk water infrastructure project. It became clear that the variables used to determine value in the project were finances, technical, socio-economic benefits and service provision. Preliminary discussions between respondents included representatives from the Multi Facility Economic Zone (MFEZ), Lusaka City Council, Kafue District Council, Shibuyunji District Council, Peoples Process on Housing and Poverty in Zambia. At the think tank there was further discussion around the planning and inception phase of the project, covering the engagement process, and prioritization. The research team also analysed city documents that covered the project background and prioritisation process.
Fifth Lusaka Learning Lab | November 2018
FRACTAL hosted its final Learning Lab in Lusaka in November. Four policy briefs were presented around water issues in the city. With water as a central theme for the Lab, participants visited Kafue Gorge Hydropower Station. The report is available here.
Lusaka City Governance Dialogue and Talanoa Dialogue | August 2018
Two dialogues took place in Lusaka. The Governance Dialogue considered FRACTAL's research so far, unpacking terminology and looking at seasonal forecasting. Four policy briefs were discussed and began to be developed. They were published in December. The Zambia Talanoa Dialogue was run alongside FRACTAL's Governance Dialogue. Framed during the United Nations Conference on Climate Change in 2017 (COP23), Cities and Regions Talanoa Dialogues are being organised in countries around the world as a way to convene all levels of government to consider their countries' Nationally Determined Contributions ahead of COP24 and future contributions. A report on both dialogue processes is available here.
Climate Risk Narratives for Lusaka | April 2018
FRACTAL's climate research team, led by researchers at the MET Office Hadley Centre and the University of Cape Town's Climate Systems Analysis Group, has developed climate risk narratives for the city of Lusaka. They were presented at a training session and were generated using climate modelling tools. The notes from the climate training session are available here. The risk narratives for Lusaka show three possible future scenarios.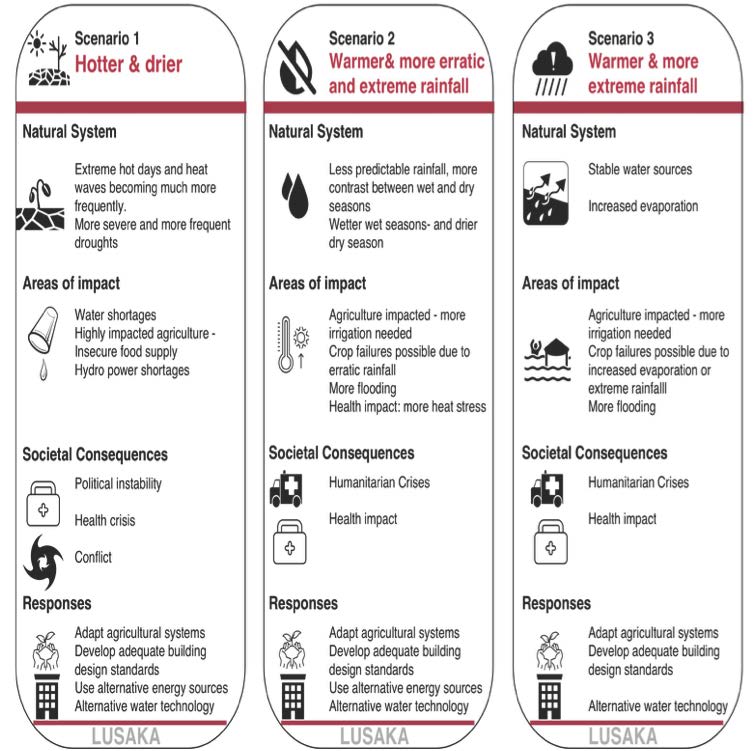 Fourth Lusaka Learning Lab | March 2018
This fourth Learning Lab set out to explore some of the key issues identified in the third Learning Lab that would be developed into a series of policy briefs. The report can be found here.
Third Lusaka Learning Lab | November 2017
A third Learning Lab was held in Lusaka at the end of November 2017. This Lab was centred around the issue of water security and quality, and included several field trips. The Climate Risk Narratives were also updated. The report is available here.
Second Lusaka Learning Lab | June 2017
The second Lusaka Learning Lab took place in June 2017. This Lab followed on from this first, during which burning issues were identified. The second Lab provided an opportunity to share feedback on some activities that had stemmed from the first Learning Lab, and resulted in the development of four city-based thematic groups to identify knowledge gaps. Read the report here.
Lusaka City Dialogue: Lusaka Water Resources and Climate Change | January 2017
The City Dialogue was a follow-up engagement from the Learning Lab, which was held in September 2016. At the Learning Lab, climate change issues were discussed with various stakeholders from the water, energy and food sector. At this event, stakeholders in Lusaka called for continued dialogue on climate change and water issues in the city. This Dialogue brought together researchers and practitioners in the field of water and climate change from Zambia and South Africa. The report is available here.
Lusaka Training for City Councillors | January 2017
The training was conceptualized within the FRACTAL project, which has the main goal of integrating relevant climate information into city level decision-making. The opportunity to provide this training was identified by Brenda Mwalukanga, the Embedded Researcher in Lusaka. Download the report here.
Inception Workshop and First Lusaka Learning Lab | September 2016
An Inception Workshop was held on 6th September 2016 to engage stakeholders working in the water and energy sectors in the City of Lusaka. This was followed by the first Learning Lab session on 7th September 2016 to discuss the burning issues within the City of Lusaka around the energy and water sector. This report covers both the Inception Workshop and Learning Lab activities.
---
STAKEHOLDERS
The following organisations were part of FRACTAL's transdisciplinary climate resilience learning processes in Lusaka:
Climate Change Secretariat Zambia Department (ZMD)
Department of Water Resources Development (DWRD)
Disaster Management and Mitigation Unit
GIZ
Lusaka City Council
Lusaka Water Security Initiative (LuWSI)
Lusaka Water Supply and Sewerage Company (LWSC)
The MET Office Hadley Centre for Climate Science and Services
Ministry of Local Government and Housing
Ministry of National Development Planning
National Water Supply and Sanitation Council (NWASCO)
Peoples Process of Housing and Poverty in Zambia Program
Shibuyunji Town Council
SouthSouthNorth
Stockholm Environment Institute (SEI)
University of Cape Town
University of Zambia
Water Resources Management Agency (WARMA) Zambia
Zambia Electricity Supply Company
Zambia Environmental Management Agency (ZEMA)
Zambia Homeless and Poor Peoples Federation (ZHPPF)
Zutari (formerly Aurecon)