FRACTAL Mega Learning Lab  April 2021
A final learning lab was held online in April. Previously, learning labs have been held at city level. For this lab, the FRACTAL team brought together participants from across the southern African region, with representatives from each of the nine cities where the project has been working.
Participants considered climate risk planning in their cities and also regionally. They also brainstormed how best to continue FRACTAL's creative learning processes around climate resilience in their cities. The full report is available here.
FRACTAL Urban Caucus  June 2019
An Urban Caucus was held in Lusaka in June for FRACTAL team members and stakeholders from across the cities that are part of the project. Discussions were held around the complexity of the nine cities where FRACTAL operates, the varied learning processes of FRACTAL engagements and the focus on grass roots narratives. You can read the full report  here.
FRACTAL Learning Retreat  October 2019
The FRACTAL team has secured funding for a costed extension (October 2019-March 2021). During this intermediate phase they aim to answer questions of scaling associated with transdisciplinary co-production for urban climate resilience in southern Africa, including questions around sustaining and streamlining. The first Learning Retreat was held virtually in October. The outcomes of the Retreat were written up in this report.
FRACTAL annual meeting 2019  February 2019
The final annual meeting was held at Monkey Valley, Cape Town, in February 2019. Read the report that was developed from this meeting here.
Improving methods of communicating climatic uncertainties to aid decision-making  2018
This FCFA report considers the importance of understanding the element of uncertainty in climate information that is being used for decision-making. It was funded by FCFA through an ARF2 grant. It weighs up the issues, constraints and opportunities that exist when communicating uncertainty in climate information. It's conclusions are based on interviews with stakeholders, scientists and researchers involved in FRACTAL and also a second FCFA funded project, AMMA-2050.
FRACTAL annual meeting 2017  November 2017
The second annual meeting was held at the University of Cape Town (UCT) in November 2017. Read the report that was developed from this meeting here.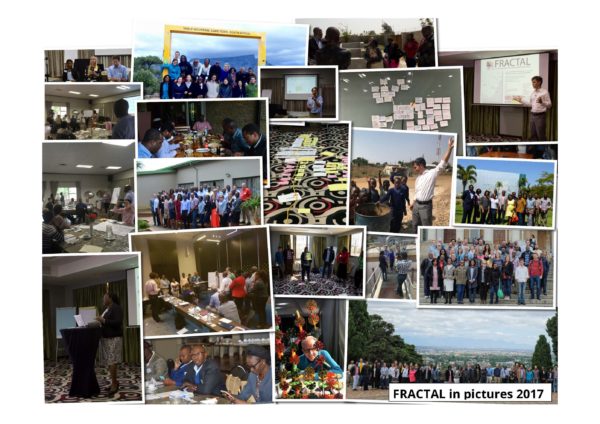 FRACTAL embedded researchers workshop  27 February – 3 March 2017
In late February 2017, the FRACTAL embedded researchers workshop was held in Cape Town, South Africa. This workshop was designed to introduce all the embedded researchers working on the project to important concepts and methods that are being implemented within FRACTAL. Furthermore, the workshop was designed to take place during the week of the Fifth International Conference on Climate Services to capitalise on this capacity-building opportunity. Six embedded researchers took part in the workshop, travelling from areas within Cape Town, Durban, Harare, Lusaka and Windhoek. Read the report here.
FRACTAL annual meeting 2016  November 2016
Following the inception meeting in August 2015, the first FRACTAL annual event was held at Monkey Valley in Noordhoek, Cape Town, on 2nd and 3rd November 2016. This report provides information that was both collated and generated at the event, including an overview of and outputs from the sessions.
Catch-up "imbizo"  June 2016
FRACTAL was initiated in June 2015. Acknowledging the progress that was achieved during Year 1 of the project – both in terms of research and operations – an "imbizo" (a Zulu word meaning a gathering, usually called by a traditional leader) was organized for June 2016. The main aims of this event were to reflect on FRACTAL one year in, share updates and feedback on research undertaken among clusters of collaboration, as well as provide insights into Year 2. This report outlines the main sessions that took place during the workshop, focusing mainly on discussion points and outputs where appropriate.
FRACTAL inception meeting  August 2015
The Future Resilience for African Cities and Lands (FRACTAL) project inception workshop was hosted by the Climate System Analysis Group (CSAG) in Cape Town 12-14 August 2015. The workshop brought together consortium members and city partners at the Steenberg Golf Estate. Through a three-day process participants worked: to improve the understanding and collaboration between all FRACTAL partners; and to finalise an integrated FRACTAL work plan that is solidly predicated on well-posed science questions, matched with details about targets and actions for year one. This report outlines the main sessions that took place during the workshop, focusing mainly on discussion points and outputs where appropriate. See the report from this meeting here.