OUR APPROACH
FRACTAL's long term goal is to increase the resilience of southern African cities by ensuring that decision-making processes are strengthened and include climate knowledge.
Our research approach is transdisciplinary, iterative and cyclical. This style of learning is key to developing useful outcomes that have a measurable impact during and beyond the project's lifetime.
WORK PACKAGE 1: Unpacks the city specific contexts, asking what are the urban climate change risks and impacts, how resilient are the cities and what decisions are being taken for adaptation and development?
WORK PACKAGE 2: Aims to understand the decision-making space in the FRACTAL cities and looks for opportunities to better incorporate climate information into local decision-making contexts.
WORK PACKAGE 3: Advances understanding of physical climate processes that govern the regional system (observed and simulated). From this it develops robust and scale relevant climate information.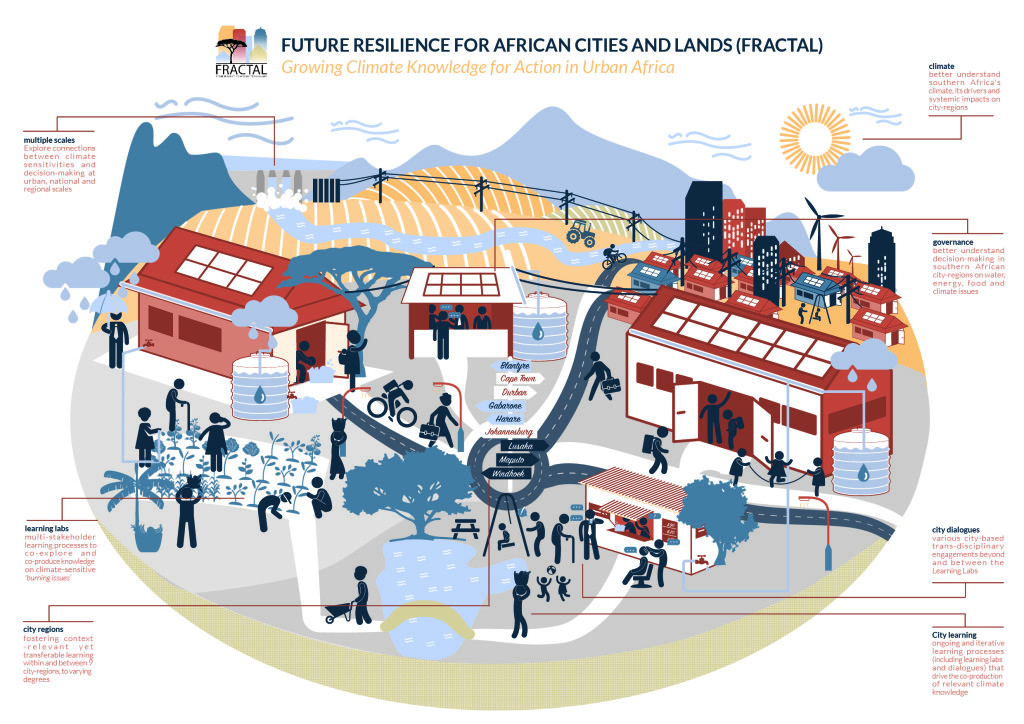 ---
CLUSTERS OF COLLABORATION
Five dynamic research clusters have been established within which FRACTAL activities take place.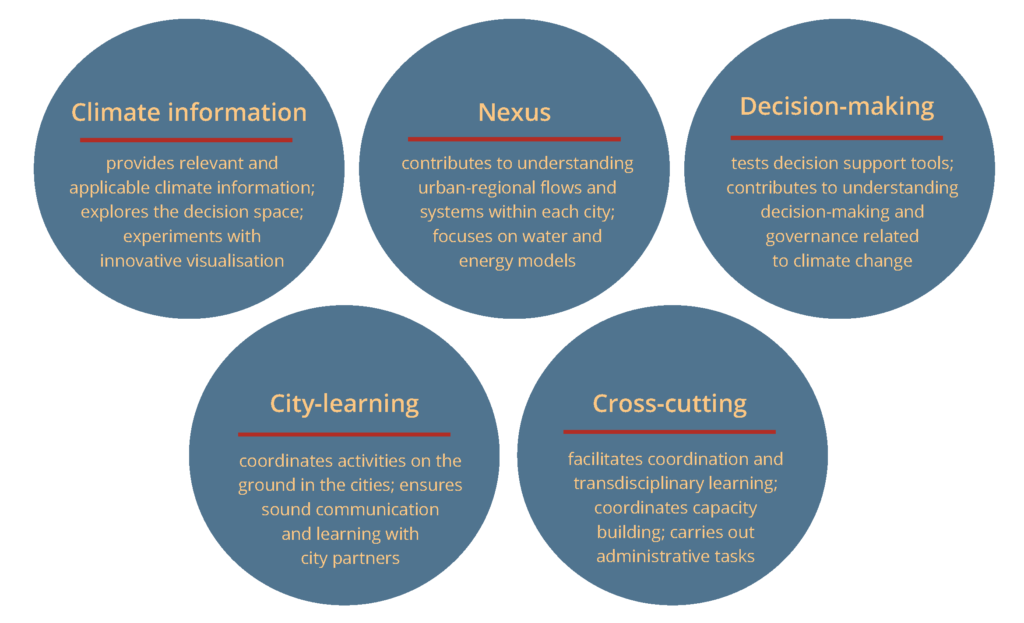 Cross-cutting
The cross-cutting cluster facilitates coordination and transdisciplinary learning across the collaboration clusters. It also coordinates capacity building opportunities and manages administrative tasks across clusters.
Contacts: Bruce Hewitson (CSAG) and Alice McClure (CSAG)
Nexus
The nexus cluster contributes to understanding the urban-regional flows and systems within the cities, particularly for critical resources such as water and energy. It focuses on producing water and energy models, plus conceptual systems models for each city which capture perceptions and understanding around water and energy.
Contacts: Dianne Scott (ACC) and Piotr Wolski (CSAG)
Decision-making
This cluster undertakes research that contributes to understanding the decision-making and governance processes related to climate change and the critical resources (water and energy) in FRACTAL cities. Various relevant decision-support tools are being tested through research activities within this cluster.
Contacts: Mzime Murisa (START) and Sukaina Bharwani (SEI)
City learning
The city learning cluster co-ordinates the work that is happening on the ground in cities, to ensure sound co-ordination and learning with the city partners. These partners include Tier 1 cities (Lusaka, Maputo and Windhoek), Tier 2 Cities (Blantyre, Gaborone and Harare) and self-funded cities (Durban and Cape Town). In particular, this cluster coordinates activities related to the learning labs, embedded research, and learning exchanges.
Contacts: Anna Taylor (ACC) and Bettina Koelle (RCRCCC)
Climate information
This cluster develops updated climate information that will be relevant and applicable in FRACTAL cities, thereby contributing to resilient development pathways. It also utilizes the learning labs to explore the decision space and trigger points associated with this climate information. To improve methods for sharing this information, the cluster will experiment with innovative visualisation and data exploration methods (informed by user engagement and feedback). It is also undertaking fundamental science such as exploring the effects of baseline attributes and uncertainties, climate process drivers, and sources of contradictions and added value.
Contacts: Chris Jack (CSAG) and Richard Jones (UKMO)
Operational Groups
Task teams have also been established to drive the research processes in a transdisciplinary manner.
City task teams facilitate the city learning dialogues in Lusaka, Maputo and Windhoek. One further task team represents Blantyre, Gaborone and Harare.
Contacts: Anna Taylor (ACC) or Bettina Koelle (RCCCC)
A communications committee implements the programmatic engagement, communications and uptake strategy.
Contact: Alice McClure (CSAG)
The learning working group documents learning at a city, project and 'community of FRACTAL' level. To drive this process, a framework has been developed in order to: instill and maintain a hunger for learning among project partners and other knowledge holders; create stimulating spaces that allow reflection and documentation of iterative learning in the process; use this learning, reflection and evaluation to improve project activities, and the broader community of practice; and ensure sound process of participatory monitoring and evaluation of the project that produces robust evidence.
Contacts: Bettina Koelle (RCCCC) or Alice McClure (CSAG)
---
THEORY OF CHANGE
A dynamic Theory of Change was developed to make sure we progress towards our stated objectives.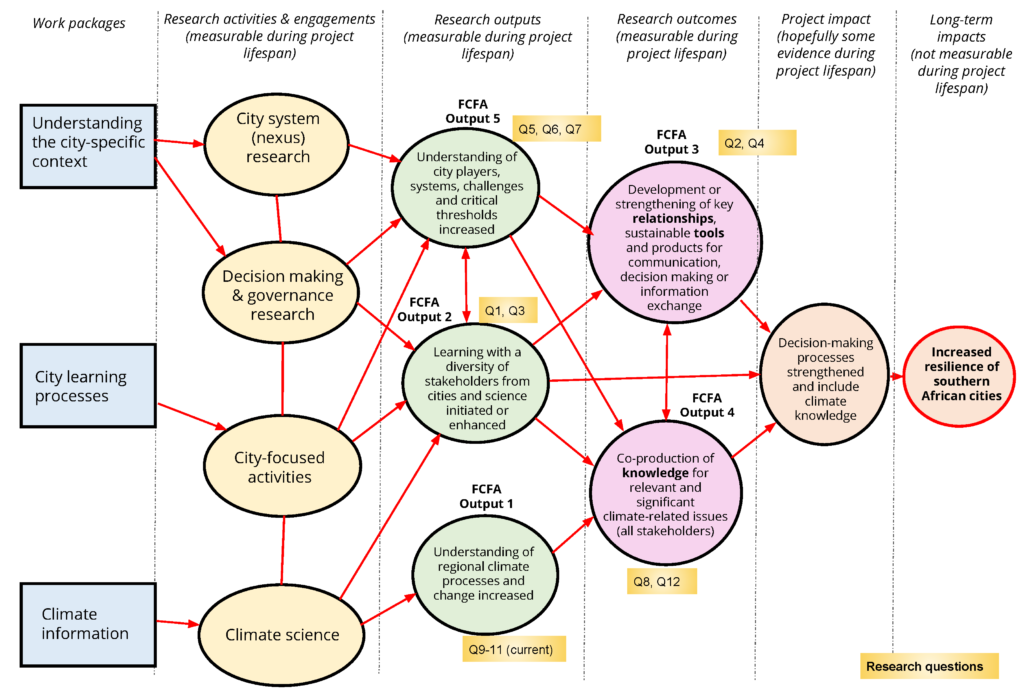 FCFA has developed its own Theory of Change, incorporating all five research consortia.