Second Learning Lab | November 2020
A second learning lab was held in Harare on 18th November. Owing to the pandemic, the lab took a blended approach with international partners joining online and stakeholders in Harare meeting face-to-face. The Mayor of Harare opened the event and the Provincial District Coordinator also provided input.
The lab set out to make the senior officials from six departments at the City of Harare aware of the concept of a climate change desk. The FRACTAL team gathered ideas from these officials around how they could contribute to a climate change desk and connected them with other stakeholders who have been involved in the discussion on climate change. They also mapped out concrete steps for the climate change desk, making suggestions ahead of the planned training for Harare city councillors.
First Virtual Learning Lab| October 2020
A learning lab was held online in Harare in October. The FRACTAL team worked together with stakeholders to consider how the project can support the initiation of a climate change desk within the office of the Town Clerk. The event was well attended and FRACTAL researchers in Harare, Chipo Plaxedes Mubaya and Rudo Mamombe, have since met with Harare City Council to plan two follow up events: a second learning lab in November and a councillors training that is planned for December. The team will likely adopt a blended approach for these events.
Exploring perspectives that underpin decisions for southern African urban development | April 2019
The FRACTAL team found very complex decision spaces in the rapidly growing southern African cities where the project was working. As a result, an innovation fund project was designed to unpack and consider real case studies of decisions that have been made in three FRACTAL cities: Lusaka, Harare and Blantyre. The case studies enabled researchers to explore the similar themes that emerged. There was a strong economic development value at the core of all three decisions, coupled with environmental and social well being values. You can download the full Innovation Fund Report and read the independent reports for the case studies in Lusaka, Harare and Blantyre.
Harare Policy Brief | January 2019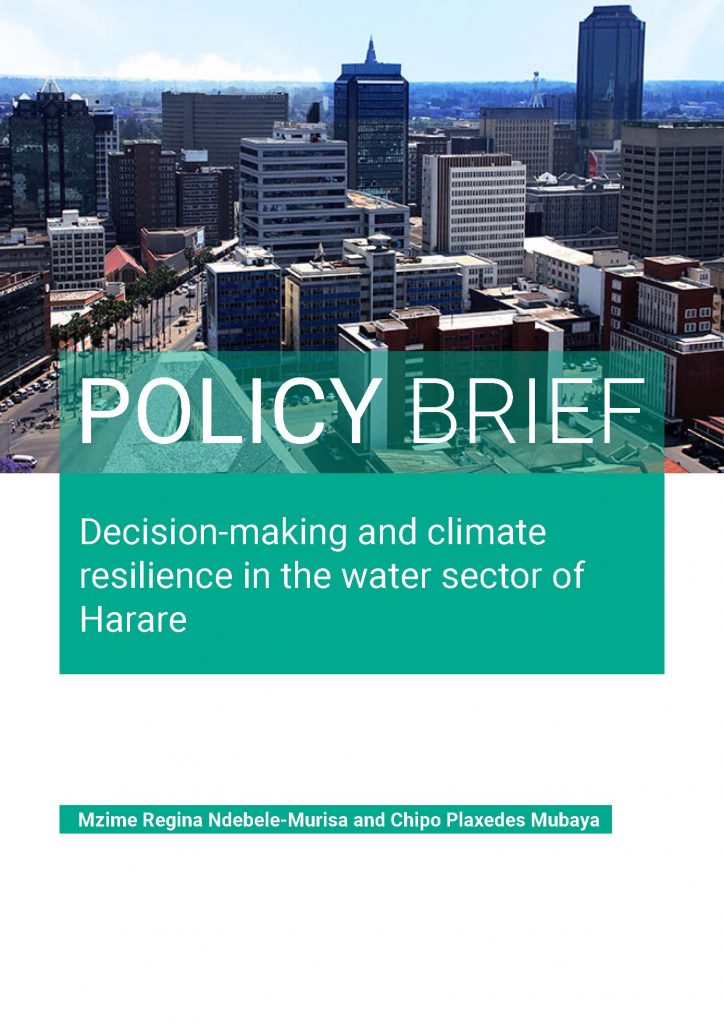 This Policy Brief focuses on the water sector in Harare, drawing on discussions around decision-making and climate resilience in the city under the FRACTAL project. It was funded by a grant from IDRCAfrican Climate Leadership Program (AfriCLP), the Natural Environment Research Council (NERC) and START's Africa Global Environmental Change (GEC) project (administered by FRACTAL).
City Narratives Stakeholder Feedback Workshop | October 2018
FRACTAL has funded a City Narratives Development Initiative in Gabarone, Blantyre and Harare. Narratives are useful tools, which enable specialist knowledge – for example, that of climate scientists – to be integrated with contextual knowledge, such as that of decision-makers. Researchers in Blantyre, Gaborone and Harare have developed future narratives for a particular sector in their city for the year 2040. Climate scientists will validate these narratives in terms of plausible climate futures. The report from the Feedback Workshop in Gabarone can be downloaded here.
Harare: START-Global Environmental Change (GEC) grant project | March 2018
Three GEC projects have been funded by START under the umbrella of FRACTAL. One of these is in Harare, Zimbabwe. Here researchers investigated the interconnections between the climate, water and energy sectors in the city, as well as decision-making processes as they related to these sectors. START has written up the experience and knowledge gained in Harare as a case study, which provides a useful and detailed description of the project. The full article can be found here.
START-Global Environmental Change (GEC) City Learning Exchange: Harare and Windhoek | August 2017
The Chinhoyi University of Technology (CUT) research project title is "Water and energy system, urban governance and decision-making in Harare" and the University of Namibia (UNAM) research project is titled "Water Security in Windhoek: governance, water demand and supply, and livelihoods in the context of urbanization and climate change". In August 2017, Harare stakeholders visited Windhoek to learn about both passive and active adaptation management strategies of Windhoek to compare the risks and vulnerabilities in the energy and water sector with Harare. This report provides a summary of activities that were undertaken during the Harare-Windhoek exchange visit.