---
RESOURCES & ENGAGEMENTS
Co-producing climate information for Windhoek decision-making | October 2020
During the first phase of the FRACTAL project, with a strong emphasis on collaborative learning and engagement with Windhoek stakeholders and decision-makers, the research team worked to co-produce, communicate and share climate information that was relevant to identified priority concerns in the city. This working paper consolidates that learning, considering the process that the team went through to develop the Climate Risk Narratives in Windhoek. It also considers and identifies gaps that could still be addressed. It is available for download here.
Urban Caucus Governance Brief: Water Banking | September 2019
At the FRACTAL led Urban Caucus held in June, four governance briefs were developed that focus on the decision-making processes around specific city-level projects. Two of these centred on projects in Windhoek: water banking in the city and the ongoing management of the Ujams Wastewater Treatment Plant (UTWP). Each brief considers the enablers to progress, highlights the challenges of the project and shares lessons learned.
Fourth Windhoek Learning Lab | June 2019
A fourth and final Windhoek Learning Lab was held over two days in June. Attendees from Durban and Maputo shared their own city experiences of dealing with climate change. There was constructive dialogue between decision-makers and scientists, and a useful discussion around Windhoek's Water and Wastewater Master Plan. The report is available here. It summarises all of the learning activities at the Lab as well as considering how FRACTAL's initiatives will continue in Windhoek once the project enters its next phase.
Local Authorities Awareness Workshop on Climate Change and Decision-Making | June 2019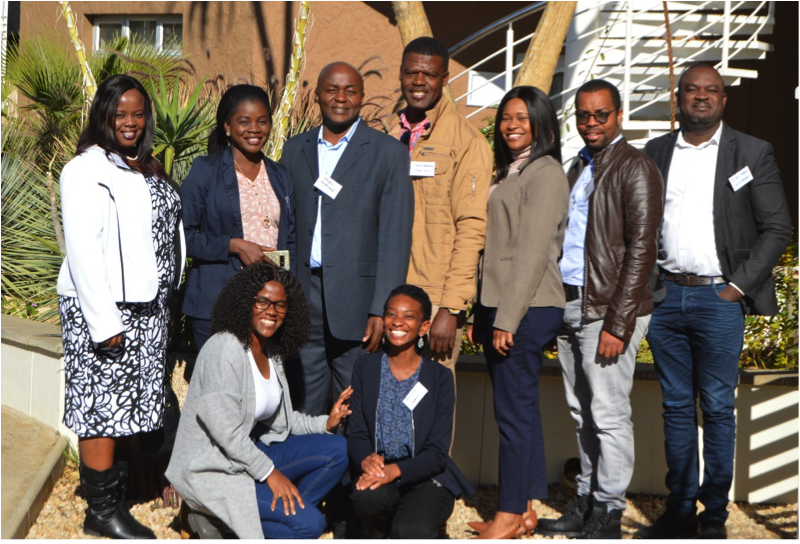 Local government in Windhoek is central to implementing mitigation, adaptation and disaster risk reduction methods that are needed to protect the city and its residents. FRACTAL hosted a workshop with representatives from Local Authorities in order to help them plan for and develop climate resilient communities. The workshop report is available here.
Climate Change Awareness Workshop for City of Windhoek Junior Council | April 2019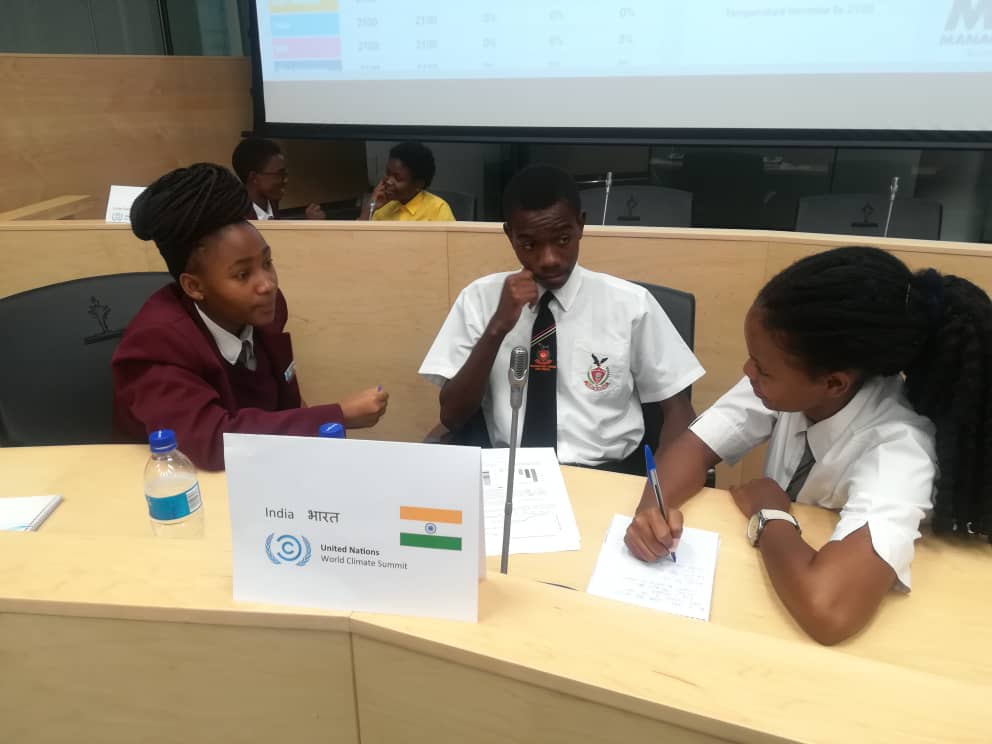 This FRACTAL led workshop, brought together City of Windhoek Junior Councillors to discuss and raise awareness of climate change. It aimed to inspire the next generation of leaders to take action around climate change challenges. The report is available here.
National Adaptation Planning Guidance | April 2019
This document offers guidance on National Adaptation Planning for Windhoek and is available here. A second guidance document was prepared for the city of Maputo.
Strategic Executive Transformational Leadership on Climate Change: Windhoek | March 2019
At this engagement in Windhoek, Strategic Executives undertook a range of activities to explore how climate change could be mainstreamed into city planning processes and decisions. You can download the report here.
Namibia Talanoa Dialogue | October 2018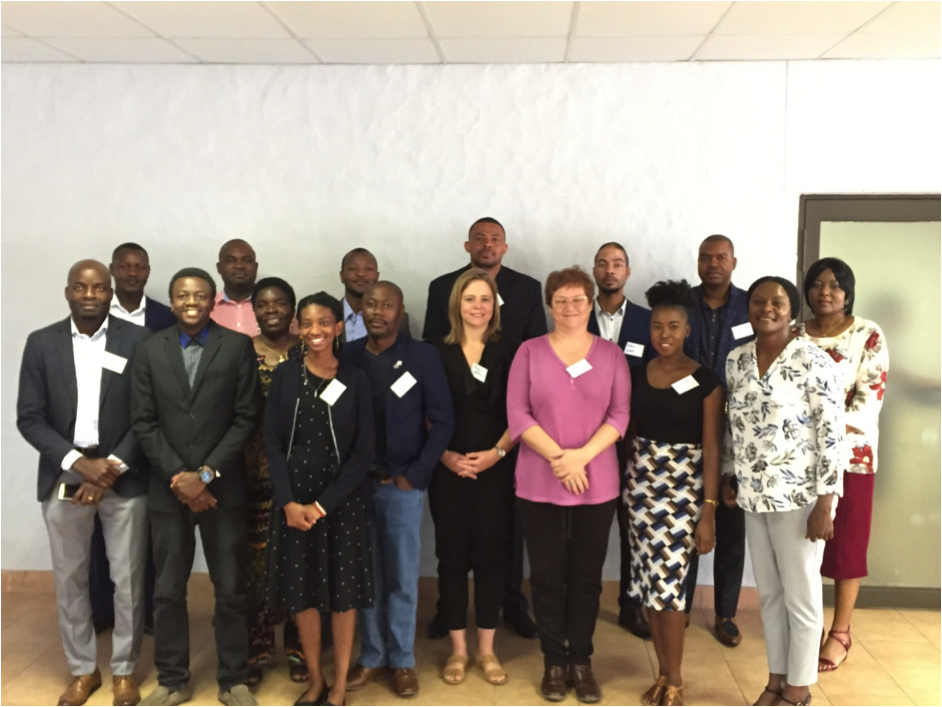 As part of FRACTAL's governance dialogue discussions a Talanoa Dialogue was run in Windhoek. Participants included local government representatives from Windhoek City Council, national representation from ministries, international representation (World Food Programme) and the Development Bank of Namibia. Representatives from the University of Namibia were also present and members of the Namibian National Climate Change Committee (NCCC). They broke into groups to discuss the core questions under the Talanoa structure. The report from the Dialogue is available here. More on the Talanoa Dialogues and FRACTAL can be found in this blog post.
Third Windhoek Learning Lab | August 2018
At the third engagement with stakeholders in Windhoek, the FRACTAL team used the climate risk narratives as a tool to open up conversations about climate-related issues. The bigger issues that were drawn out included water and urban development. Read the report here.
Windhoek Water Security: Final Project Report for 2016 START Grants for Global Change in Africa | July 2018
Under the FRACTAL umbrella and through the Global Environmental Change (GEC) Programme, START funded a project looking into Windhoek's water security – Water Security in Windhoek: governance, water demand and supply, and livelihoods in the context of urbanization and climate change. UJAMS Waste Water Treatment Plant (UWWTP) was used as a case study to investigate governance and policy analysis in relation to water security in Windhoek. The study revealed the different actors that were involved in discussions and decision-making around water supply to industry, pollution from industry and the need to find diverse alternatives to the water insecurity issues leading up to the establishment of UWWTP. An analysis of the Water Management Plan for City of Windhoek 2017 and also the Transformational Strategic Plan (2017-2022) the city's policies revealed only limited mainstreaming of climate change related issues despite Namibia's introduction of a Climate Change Policy, Strategy and Action Plan.
The full report is available here. The research team included Prof John Mfune, Prof Lawrence Kazembe, Dr Ndeyapo Nickanor and Mr Gerhard Iiputa (University of Namibia (UNAM)), Dr Earl Lewis (UNAM Multidisciplinary Research Centre) and Mr Johannes Sirunda (NamWater).
Windhoek Transformational Leadership on Climate Change Training | April 2018
In partnership with FRACTAL, the University of Namibia and the City of Windhoek hosted a Transformational Leadership on Climate Change training on 18-19th April 2018. The training aimed to equip decision makers with knowledge that will allow them to move away from the 'business as usual' way of decision-making, a requirement for the development of climate resilience cities. The report from the training can be downloaded here.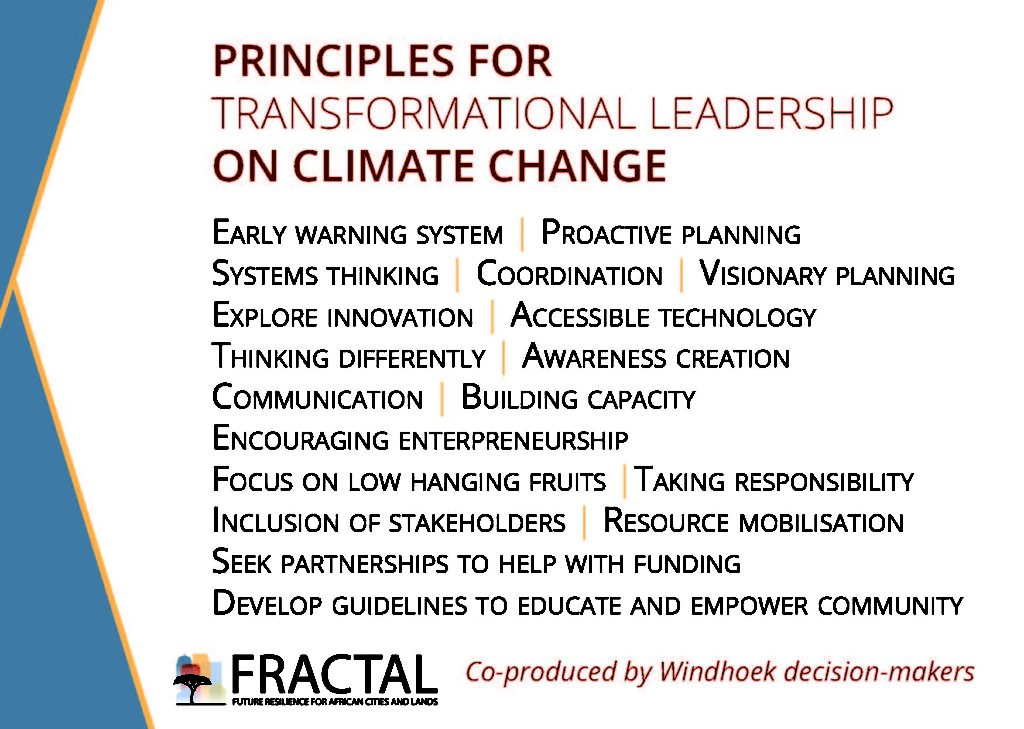 "[Transformational leadership] challenges the dynamics that created the problem in the first place as well as builds capacities to be able to deal with and support the change the leader and situation is asking for."
Jess Kavonic, ICLEI Africa
Climate risk narratives and climate information for Windhoek | April 2018
FRACTAL's climate research team, led by researchers at the MET Office Hadley Centre and the University of Cape Town's Climate Systems Analysis Group, has developed climate risk narratives for the city of Windhoek. The risk narratives show three possible future scenarios. They have also developed a Future Climate Impacts Infographic.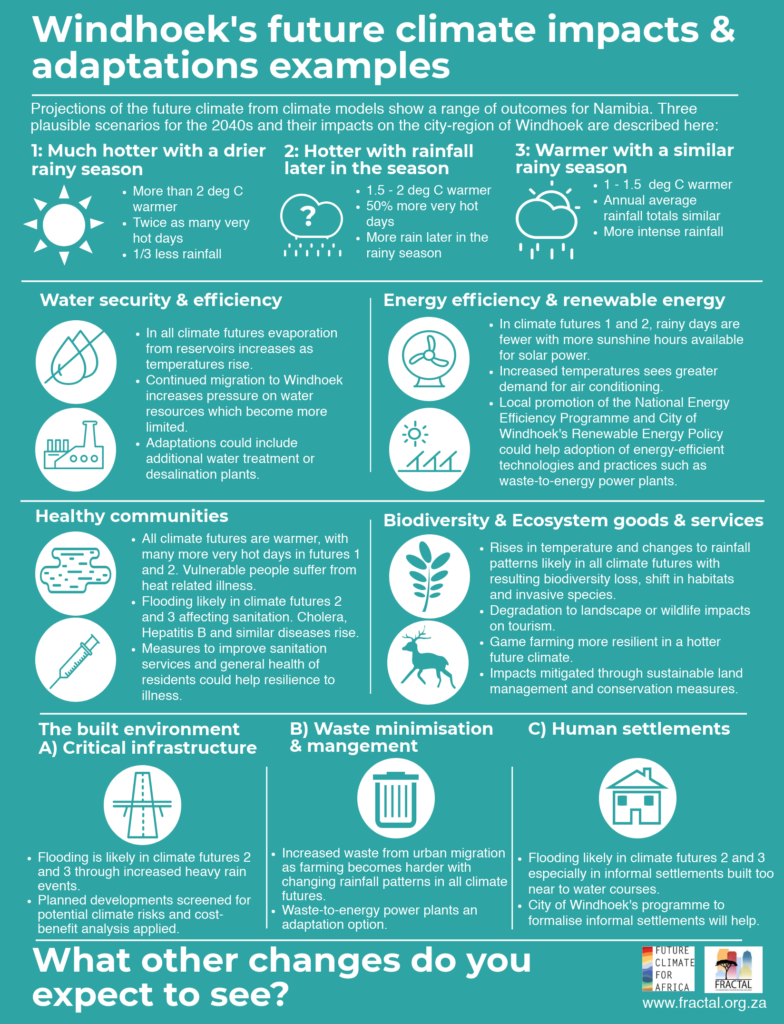 Future Climate Impacts Infographic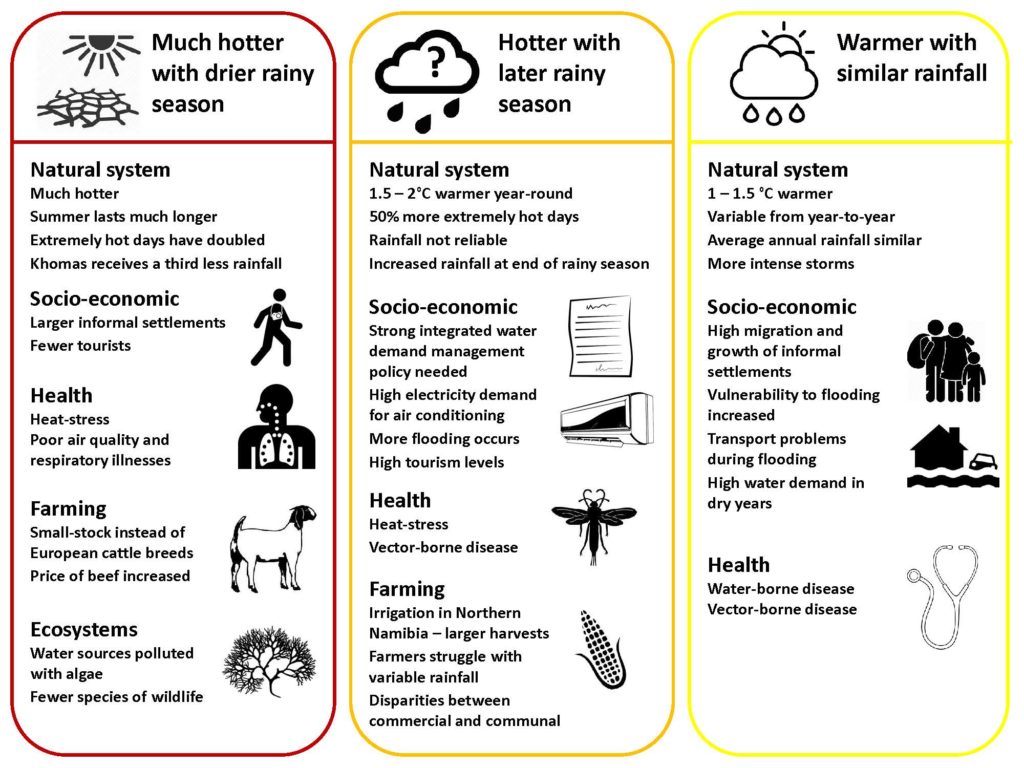 Windhoek-Lusaka SOG Funded City Learning Exchange | October & November 2017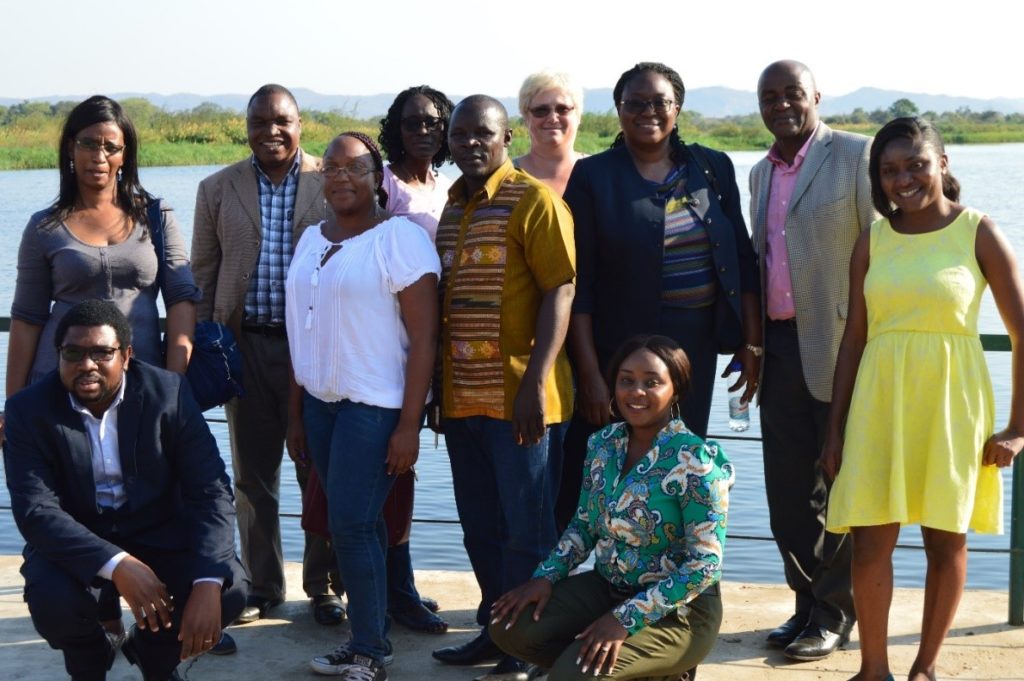 The research teams from Windhoek and Lusaka visited each other's cities thanks to FRACTAL's Small Opportunity Grant programme. Both cities had identified water security as a key risk from climate change. You can read the blog post by FRACTAL's Embedded Researchers. The technical report is available for download here.
Second Windhoek Learning Lab| October 2017
The Windhoek Second Learning Lab took place on 31st October 2017 at Heja Lodge with 40 participants in attendance. This Learning Lab was focussed on City of Windhoek Officials. It aimed to raise awareness about the proposed City of Windhoek's Climate Change Strategy and Action Plan, which is being led by the City's Division of Environmental Management. Read the report here.
START-Global Environmental Change (GEC) city learning exchange: Harare and Windhoek | August 2017
The Chinhoyi University of Technology (CUT) research project title is "Water and energy system, urban governance and decision-making in Harare" and the University of Namibia (UNAM) research project is titled "Water Security in Windhoek: governance, water demand and supply, and livelihoods in the context of urbanization and climate change". In August 2017, Harare stakeholders visited Windhoek to learn about both passive and active adaptation management strategies of Windhoek to compare the risks and vulnerabilities in the energy and water sector with Harare. This report provides a summary of activities that were undertaken during the Harare-Windhoek exchange visit.
Climate Change and Decision-making Awareness Workshop for Windhoek Councillors | July 2017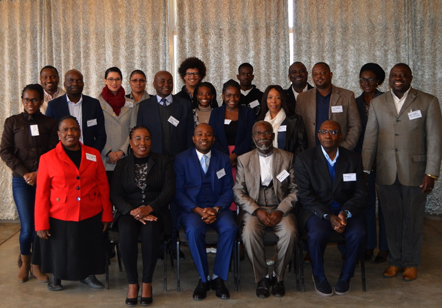 FRACTAL hosted a Workshop for City of Windhoek Councillors. Participants included His Worship the Mayor of Windhoek, Mr. Muesee Kazapua, City of Windhoek representatives and Khomas Regional Councillors. Participants discussed current climate change issues, and considered their responsibility to use relevant climate change science information in urban development planning. The report from the Workshop is available here.
First Windhoek Learning Lab | March 2017
The first Windhoek City Learning Lab took place on 14-15th March 2017. It brought together stakeholders from a variety of organisations and aimed to frame relevant "burning issues" that would become the foci (pilot studies) for FRACTAL in Windhoek. The report is available here.
---
STAKEHOLDERS
The following organisations were part of FRACTAL's transdisciplinary climate resilience learning processes in Windhoek:
African Centre for Cities (ACC – UCT)
British High Commission for Namibia
City of Windhoek
Climate System Analysis Group (CSAG – UCT)
Development Workshop Namibia
Environmental Investment Fund of Namibia
International Youth Climate Movement (IYCM)
Ministry of Environment and Tourism
Department of Environmental Affairs
MME/UNDP/GEF CSAP TT NAM
Namibia Housing Action Group
Namibian Ministry of Agriculture, Water and Forestry
Namibian Red Cross Society
Namibian Youth on Renewable Energy
NamWater
NIA Parliamentary Committee on Management of Natural Resources
Progress Namibia
Red Cross Climate Centre
SASSCAL
Shack Dwellers Federation of Namibia
START
Think Namibia-Hanns Seidel Foundation Namibia
UK MET Office
United Nations Development Programme – Namibia
University of Namibia